We're big fans on Steven Pinker.  We're big fans of the RSA.  And we love RSA Animate.
One of the biggest disciplines we try to instill in our clients is clarity around stimulus and response.
We fully believe that you need to be clear and specific about the desired customer response before you can make or offer anything.
Brands are responses.  They are the total set of associates left that people come to about your brand name.  At the brand level you need to know what set of associations would benefit your business most (relative to competition).  Then and only then are you in a position to talk messaging or media or about making anything else to earn that set of associations.
Not all responses are brand responses.  There are communication responses too. Communication responses are the desired customer response(s) that follow when people run into or participate with your marketing.  Again, you need to know what you'd like to leave with people before you make anything.
While this video isn't about marketing it is about stimulus and response.  Pinker's genius is his ability to bring the nature of communication and, in this case, the nature of stimulus and response, to us in a way we can understand.  Here Pinker goes beyond just stimulus and response and implicit and explicit communication.  He also speaks about how relationships matter in all this.  Fascinating.
What makes this video especially great is that RSA Animate goes further to make it accessible and interesting and entertaining.  A fantastic combination.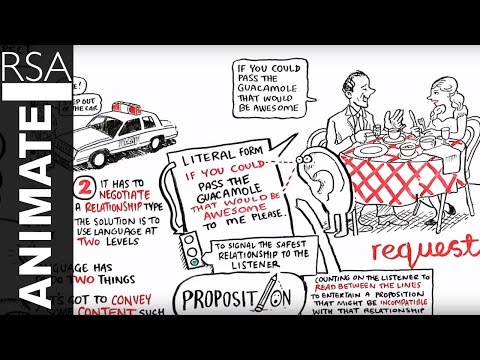 Next time you are working on something make sure you recognize the difference between stimulus and response.  We've got several tools and approaches to help teams with this distinction.  This clarity saves and endless amount of time and makes all the work better.